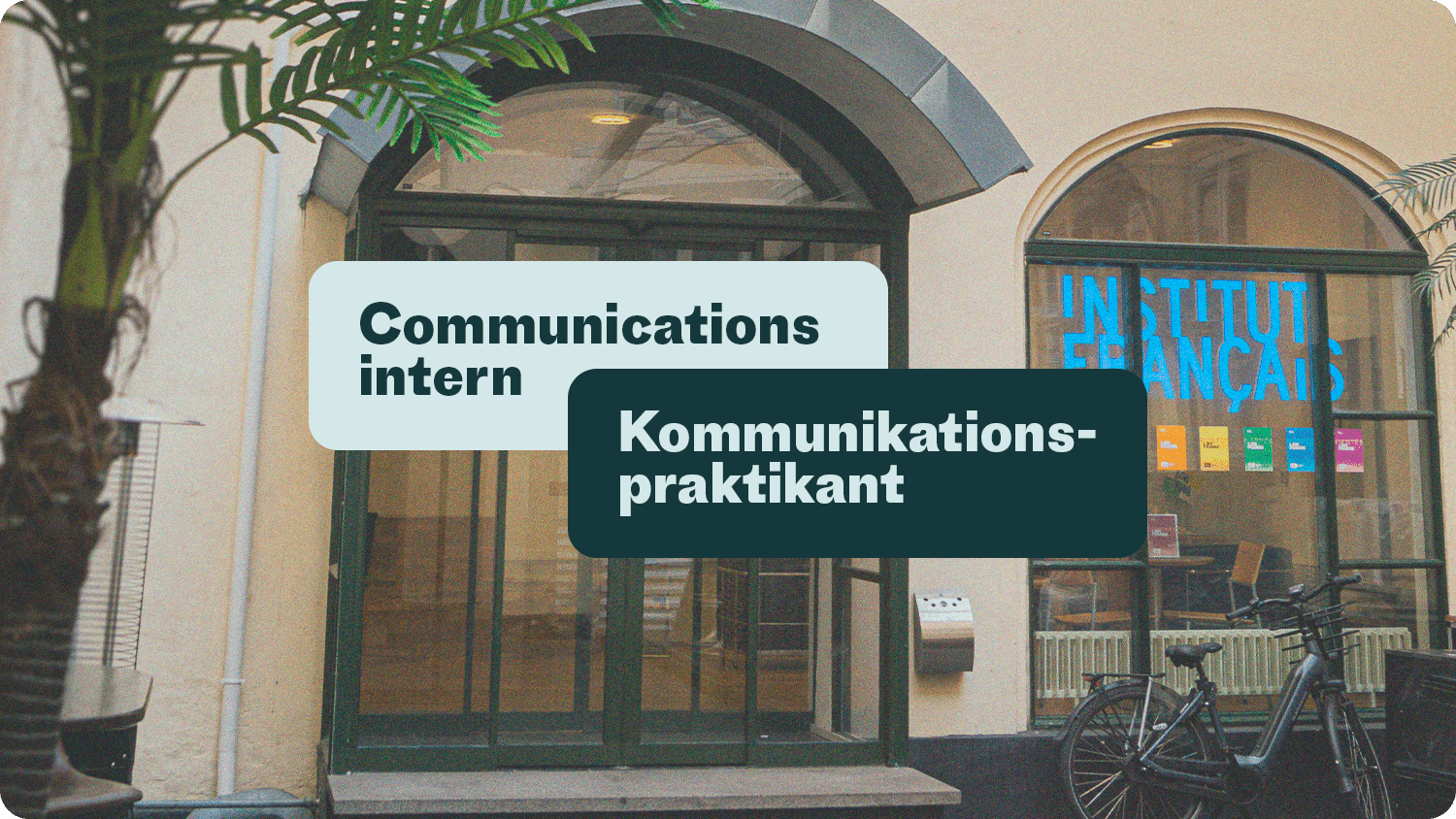 Communications intern with strong digital skills
Would you like to improve your digital communications skills and try your hand at international cultural communication? Do you have strong digital skills, like to think strategically, are able to put your ideas into practice and would you like to say "Bonjour!" to your colleagues every day?
The French Institute of Denmark is looking for a communications intern with strong digital skills for early 2024 who, as part of a small team, would like to take on our many communications tasks and bring the French language and culture to a Danish audience.
Can you see yourself...
... writing and editing texts for Facebook, Instagram, LinkedIn and X in French, English or Danish?
... creating communication materials such as graphics, photos, videos and podcasts?
... contribute to the development of the communications strategy of the French Institute of Denmark and the French Embassy in Denmark?
... work in a Franco-Danish workplace in an intercultural environment?
... and lend a hand in a wide range of fields, including culture, literature, promotion of the French language, science and university cooperation?
If so, we would be delighted to hear from you and give you the opportunity to discover how the French Embassy in Denmark's cultural and outreach policy works.
About the internship
At the French Institute, we promote the French language and culture in Denmark. We do this through Franco-Danish projects, events and networking activities, as well as through our language school, which offers French courses at all levels. At the beginning of 2024, we are seeking an intern interested in joining our communications team to help enhance the visibility of the French Institute of Denmark and its initiatives. You will have the opportunity to participate in the entire communication process - from idea development to execution.
We assume that you 
are enrolled in a higher education program, e.g. communications, intercultural studies or similar

are fluent in English, so that you can get along with non-Danish colleagues (knowledge of French is beneficial, it is not a requirement)

are interested in linguistic and cultural communication in international contexts

may have practical experience of multimedia, video and image editing tools such as Indesign, Premiere Pro and Photoshop

are independent, creative, entrepreneurial and flexible
What you can expect from your internship
An internship at the French Institute gives you the opportunity to be an integral part of the work and development of the Institute. You will be part of a dynamic environment where you will have responsibility and influence, and you will quickly be given your own tasks. During your internship you will gain a good understanding of international cultural outreach, communications work and event planning. The working languages are French, Danish and English. If you dream of testing your skills in an intercultural environment and/or improving your French, an internship at the French Institute is an excellent opportunity.
The internship will take place during the spring semester of 2024 - generally full-time from January to June (flexible start and end dates). The exact period is determined by agreement and we are flexible with regard to your program of study and the number of hours.
The internship period is unpaid.
The internship will take place at the French Institute of Denmark, located at Rolighedsvej 37, 1958 Frederiksberg
Application and contact
Please send us your application and CV before 30 November 2023. If you have any questions about the position, please contact the Communications Manager:
Margaux Frémont